Yes I hear you say.. not always.. and you would be right.  But tonight as I came home to my room in Hubli, this was really true for me.  I had been for my first acupuncture treatment – since my last series back in October.
Dr Anand Varma.. what a gem he is.. I wrote of him before .. when I just found him.. and I am back now after such a great result with my knees.. this time I am offering him my cranky neck to have a go at!!  He can stick all the acupuncture needles he likes into me.. I fully trust his long experience and his steady hands.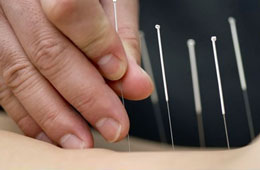 Today I walked into the clinic and each and every one of the staff welcomed me with big smiles and open hearts.  I felt like a special guest.. I think everyone who goes there gets the special guest treatment ..
I sat down next to a young girl who seems to have cerebral palsy..there with her mother – she is about 12 years old – can't walk very well but her smile breaks open the heart.  She is in my group.. that is the ones who are scheduled for the 6pm session.  Then after some time on the hard waiting room bench, we were called upstairs.  She and I shared the same cubicle.  The over head fan was on .. as I climbed up onto the high bench and settled in.. waiting for the needles.  Hari Krishna Hari Rama played – over and over the mesmerising chant.. and I was transported.
Finally Dr Varma arrived – replete with new smart phone and all my details and my charts on it to be consulted there and then.  He proudly told me his son advised him on the best way to get set up .. and its working very well.  I joked.. ha I can't lie to you any more.. its all there at your fingertips.
And so the needles went in.. Hari Krishna continued to play – and I lay back and relaxed.
Half and hour later the nurse came and freed me and my new friend, the young girl on the bench next to me.  I floated out.  And wandered up the laneway in the gathering dusk to find myself an 'auto' (rickshaw) – there he was .. and as I started to tell the driver where I wanted to go he cut me off laughing and with a stream of Kannada that I only guessed at – I realised he was the same man who brought me on Friday for my first appointment.
I relaxed in the back of the auto.. feeling safe, feeling cared for, feeling blessed.  This Universe I am in right now .. feels like such a friendly place.  I am incredibly lucky. And I know so many are not .. but for now I simply feel very grateful that I am surrounded by friendly people – I am cared for and I am loved.