I wake early on Saturday morning – its relatively quiet yet.. kids doing sport yelling deep in the background – birds – the occasional rickshaw sputtering. The sound of the mop and bucket cleaning the tiles downstairs. The metallic clatter of the dishes being cleaned has not yet begun – she comes a little later these days.
I have resumed my morning meditation but I am far from quiet.  My head wanders all over the place on inconsequential meanders.  Right now in this first couple of days back in India  I am feeling self-conscious – here safe in my room but at anytime I emerge, I am again shy, a little nervous. Aware of my 'foreignness' and my strange status as an older foreign female wandering around on my own.
Women tend to move in packs.  Not always true but in the male dominated 'hotels' (restaurants) there may be only one or two women with their husbands- or perhaps a table of 4-5 women together. At the hotel where I come to eat my evening meal,  no-one is alone like me. No-one foreign – just me. ' Is it okay?' I ask myself constantly – always eyes are on me.
I am embarrassed – I don't know what is available in the hotel – there is no menu – just what I see around me.  The man opposite me is finishing his 'thali'.  I don't want that.  There is pau baji – white soft bread rolls slightly sweet with a tomato based spicy sauce – also not tonight – but perhaps they serve dosa – so I ask for that.  'Masala dosa?' the waiter says.. yes – that's it.. relief….I have ordered.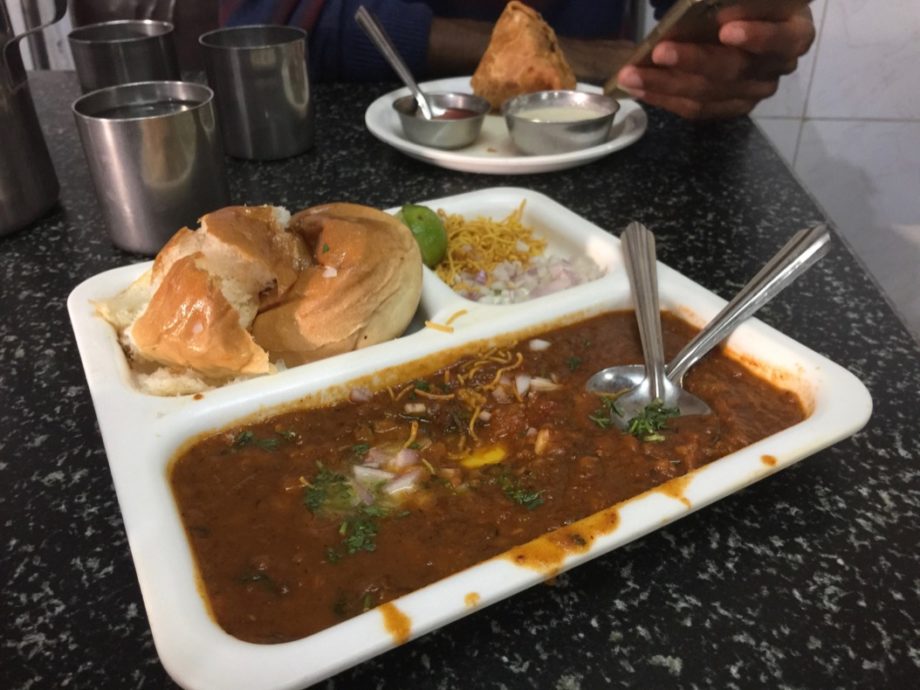 The man opposite orders something – it comes – a sort of frothy lemon drink.  It seems cold with ice.. he appears hesitant but then begins to drink.  I catch his eye and ask: 'Nice?' he nods.  End of communication.  He leaves it half finished on the table and gets up to leave.  No recognition or nod to acknowledge his going.
My dosa comes just as I am trying to sneak a pic of the male dominated room.. my pic is blurred and full of waiter's stomach.
But the dosa is great!!  I would like a lassi – but not many hotels serve these in this area. I don't see them being given.  Only chai and it is too late for that. I am not ready for a sleepless chai fuelled evening.  So I let the thought of it go and signal for the bill.
That is easy in any language. 32 rupees – about 60 cents. It was a delicious dosa.  I wash my eating hand with the cup of water into the dish in front of me as is perfectly acceptable here.  I fish for my money, pay and move out to the street with some relief.
Next a little shopping.  Breakfast pre-purchased tonight – curd (yoghurt) and banana – easy.  The street is busy, cars, rickshaws, motor bikes – walking on the side with the traffic coming behind me – the Indian way – I reach a tiny hole in the wall shop.  There are 4- 5 people standing outside at the narrow counter.  And the lady inside recognises me – there is welcome in her eyes – we smile together and I ask for curd – doh pakit – 26 rupees and panch banana. Oh, mistake – I wanted 4 and I asked for 5! but I get them and pay and we are both happy.
I will go there again for the friendly face.
Why am I so nervous when really in the face of all these daily small challenges, the most important thing I need to remember is that I am the stranger.  It is up to me to find my smile, to jump over my shyness, my embarrassment at who I am, my awkwardness with my language barrier.
Smile Shazar – practice every day, every moment to catch the eye of the person next to you and smile for who are they but another one of you.