Yes I am learning .. slowly slowy – some Hindi and some Marathi is coming in.  Wishing someone out there would just make a chip I could insert in my left ear and hey presto instant translation!
People often ask me .. "what about your day? what is that you do every day there at the Shelter for Homeless Kids." 
Today – variety is never ending – meditation at 5.45 – always somewhat challenging for a person who used to think silence was a requirement to meditate!  Little chance of an undisturbed meditation in a huge rambling building site that also houses 67 young boys! And then the day really starts.. and now its 3pm and what have I done today?  Patched up two injuries, put cream on sundry scrapes, comforted two crying ones who had suffered an altercation with another boy – ticked off severely one of our young Shaolin Team – (who help take care of this chaotic place) for physically whacking one of the kids.. after all he is supposed to be a role model.  Not the place for whacking!
Then I spent some time on the computer – updating our facebook page – researching sustainability power and fuel sources for our rural place, and then a quick wander down to the spring where the Shaolin team were cleaning out the pond area from where we pump our water.  It was hot and they were working hard, in the sun and despite being half in the water they were sweating.  Girls and boys together doing a great job.
Back to the building site for lunch.. subji (vegetables, chappati and rice) and then a computer class for four of the older boys.. switch on.. save files , switch off, .. switch on, save files, switch off, and some paint practice for light relief.  Teaching one of the heavy handed and impatient ones, Yogesh, who speaks NO english that a double click was preferable to bashing the mouse proved decidely interesting!
And the phrase that heads this post? I learned thatjust now as I tried to call to the boys – on the excuse of washing a mat – who were playing and swimming in our local water hole which is now totally dirty.. it means.. "Water very dirty".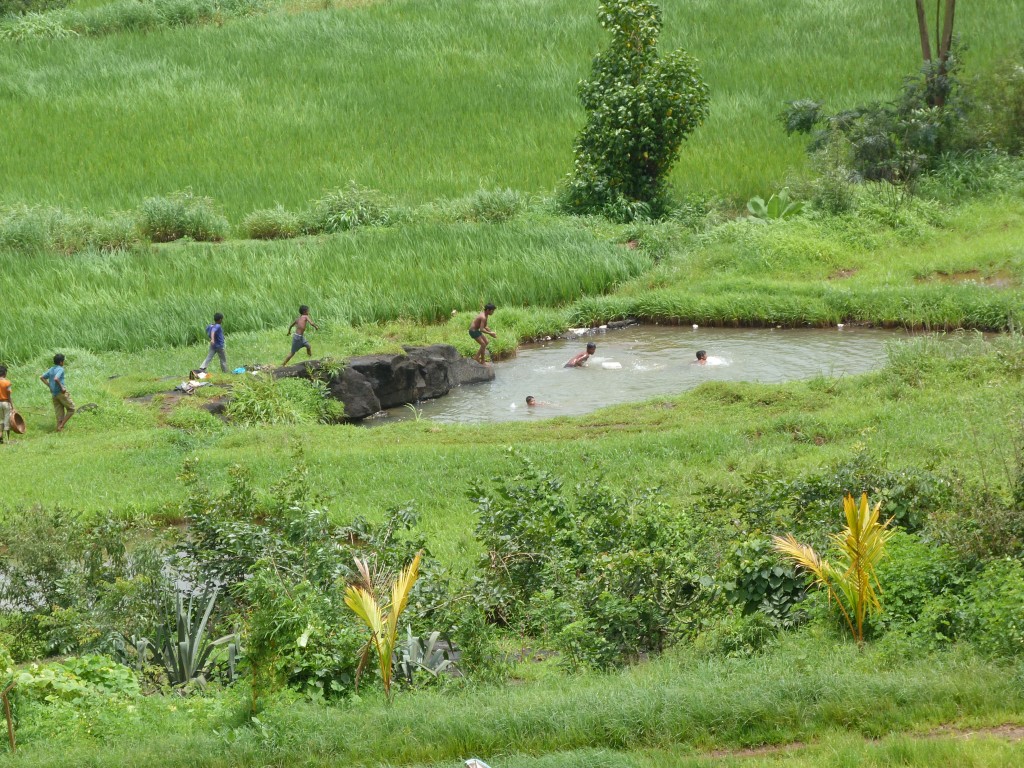 Oh how I love these kids.. what happened to me – the one who never wanted children, the one who always just wanted to give them back to their parents? Now in love with almost every one of them.  My heart opened and they fell in.  Gratitude for being here is profound. I am more than lucky.