Mmm feels like coming home now – how interesting is that .. only a short time ago Mumbai felt like a big and strange and impossible to navigate, city of crazy drivers, manic horns, terrible pavements and incongrously majestic buildings stuck between the falling down heritage mansions.  This morning as the overnighter SRS Travels Non AC sleeper bus manoevered its way through the traffic, the 'sweeper' or bus boy yelled the stops as we neared the centre of the city.
I felt comfortable .. I knew where I was – I was prepared to get off.. it would be the right stop.  No more nervous indecision about: 'is this the right place'.. yep Google maps helps but also I am way more familiar with this huge city now than ever before.  It almost feels like home.
After 12 hours on the night bus now for a bit of a trek across the overpass walkways that take you through the highrise slum of Bandra station area  to find my hotel.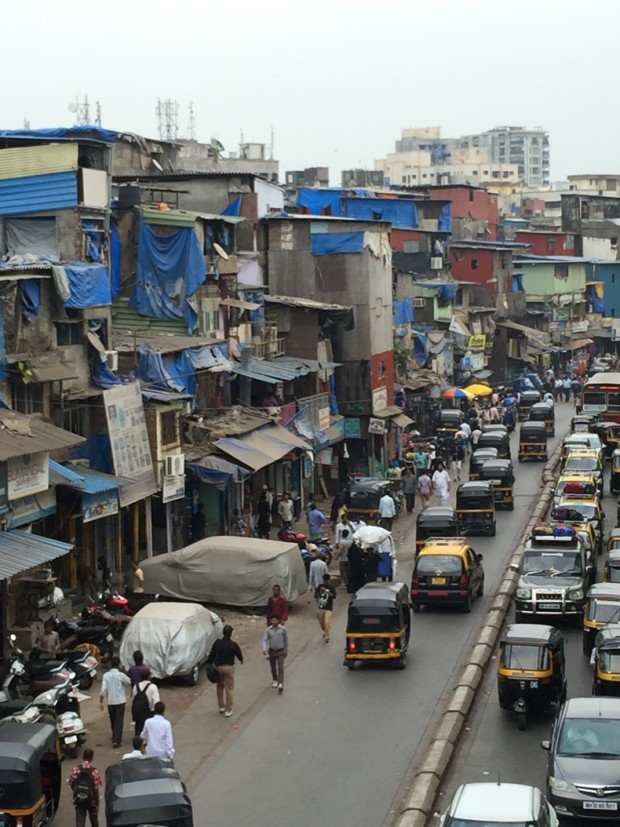 Where slum dwellings are built one on top of the other to a shaky 4 and 5 story height.. and on the other side of the walkway there is a field of brilliant green of 'palak' a market garden of spinach in the city.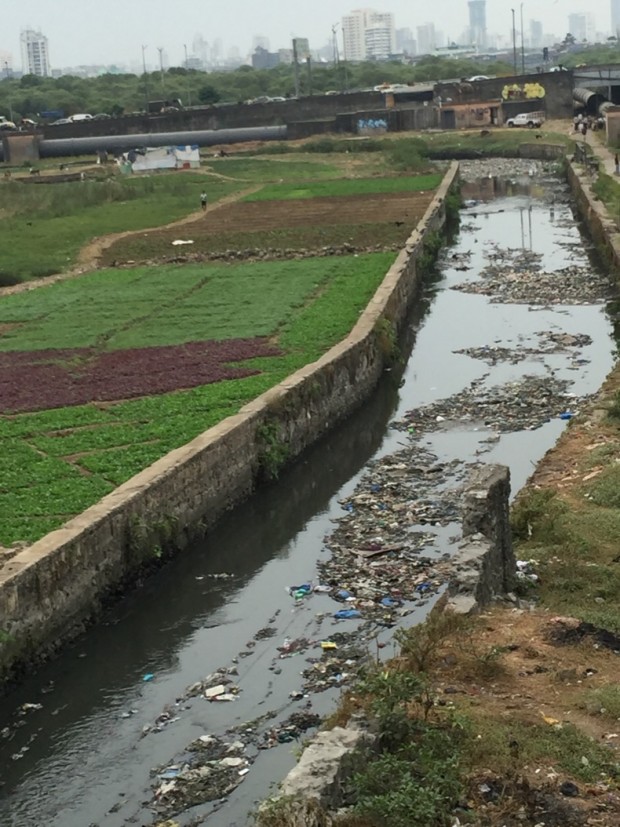 And out the other side of the tracks, and down the stairs into the melee of the bus station.. oops nearly got backed into by the rubbish truck.. no beep beep of backing sound just the banging of the flat of the hand on the truck door to warn unwary wanderers behind the vehicle.
Still not certain of which direction to go.. a helpful Auto rickshaw driver points me in the right way and I negotiate rubbish, broken pavement, myiads of motor bikes, pedestrians, dogs, rickshaws and buses to wend my way up the street.  Its early but very busy.. and there a chai stall with a friendly stool to sit on.. I perch myself and sip the sweet hot milky brew out of a tiny glass.
And there just a little further on is the 'Rat Hotel'.  No its not really called that.. its just that here is where I did the epic rat rescue so from now on in my mind its the Rat Hotel.  Actually I like it.. a bit of a hole in the wall.. the people are friendly.. they remember me.. they take care of me and outside the frenetic rush of the railway station road is a feast of sounds and sights and life intensely there.
Market stalls, vegies set out across the pavement, any number of food stalls, busyness, shoe shops, dogs, grocery shops, pan beedi shops, the lassi wallah, people everywhere of all shapes sizes and creeds, wending their way through the intense street life that is right outside my door.  A quiet hotel? .. No not really, but I have ear plugs and where in Mumbai do you find quiet with over 20 million people living in this incredible city of contrasts – chaos and life.
These days I can manage to relax into Mumbai and to begin to understand why people really like to live in this immensely incomprehensible city. A city that that will blow your mind in a moment and show you her face of generosity, of wealth, of desperate poverty – piles of garbage, street children, transvestite beggars, high rise gloss – and always in a flash of a smile and the connection of eyes, the depth of her heart.
 All this is Mumbai – a city of dreams.