My mother left a scar on my soul. Can you see it? If you look closely – you may.  If you knew her you might hear her in my laugh – or glimpse a shadow of her being in the turn of my head. The scarring was oh so painful as it was made but now this scar is simply a beautiful mark on my soul.
Her being was special.. yes I hear you say.. 'all mother's beings are special'.  But no – you did not know mine. She was my mother.. and then she was gone.
A short time we spent together – only a few years – almost 14 in total – but the blink of an eye compared to a lifetime.
In that 14 years she shared so much. Her love of beauty, her eye for photography, her hand in baking .. she cooked.. oh how how she cooked – while multitasking the day through – she washed and baked and made bread and cooked roasts and quartered the mutton to a tee.
The 'killer' (meat in the form of a dead sheep) was brought in by my father every few days depending on the number of 'men' she was feeding at the time.
On the Murchison River – some would say the outback – this was not your lamb chops all neatly packaged, your roast leg – already for baking and carving.. no the whole sheep simply stripped of its insides and its wooly hide.
The rest was up to Mum – to get it suitably divided and ready for the kero fridge. Every last piece of that sheep was prepared with a loving hand and provided to the family and the workers in as many different ways as she could dream up that they would accept and eat. Soups, stews, brains, liver fry, shanks – roast on Sunday .. the list went on.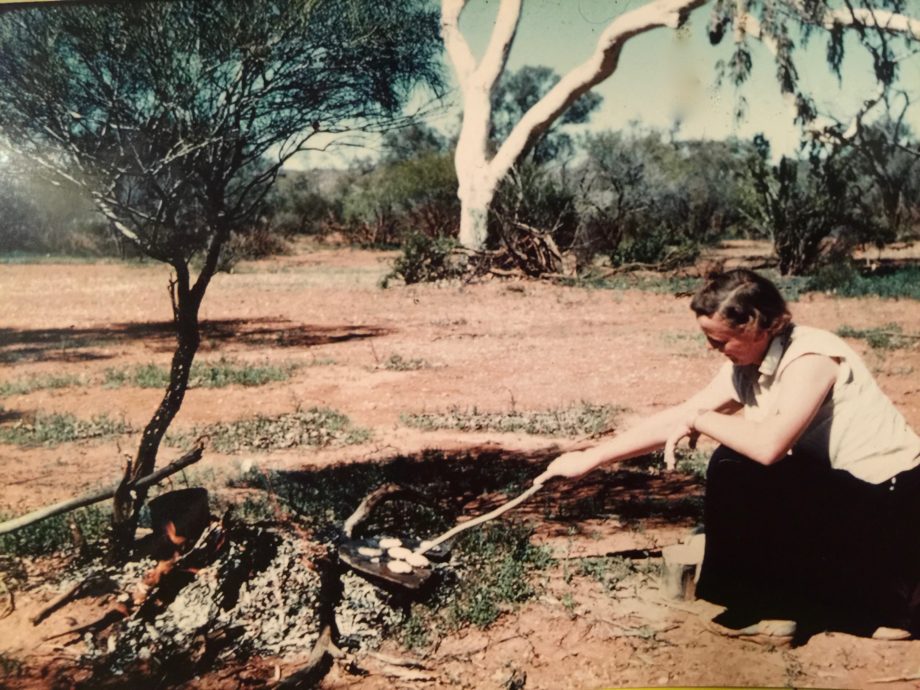 But let it not be thought that my Mother was just a cook. For she was a stalwart woman – bearer of five children, the backbone of a sheep station – without her my father would never have survived the 'bush'.
And who was she to me that she has left this exquisite scar on my soul. When I remember her – the first thing that comes to my mind is her fragrance.. the smell of her – that smell that was the last thing that was tangible after she left. I would bury my face into her night clothes and her dressing gown still behind the bedroom door .. and the memory of her would wash over me with the strength of a huge wave ..
but now .. as time has passed – I think of her infrequently – she is around that I know – I feel her laughter at times – and I feel her hand in my own as I too understand the art of the cooking pots and the fire. This she taught me along with the 'correspondence schooling' she gave – me perched on the kitchen cupboards reciting my times table while she beat the loaves of bread into submission with her floury arms.
'Seven eights are fifty six' I recited time and time again as the loaves and buns were formed on the bench beside me.
And then there was the day when the long black snake slithered into the kitchen .. wove its way into the cupboard and disappeared behind the huge old AGA cooker we had. Mum was not faint of heart .. a snake of any kind in the bush meant watch out.. she took a kettle of boiling water and poured it down the back of the stove.. the snake was not seen again.. we breathed and went back to the times table.
Women in those days in the outback were a special breed. They had to be. Mum was one of the best. She could turn her hand to all things household, she understood how to stitch up a gash in a bleeding dog caught on the barb wired fence, she knew how to grow a vegetable garden that flourished in the harsh land – her chickens gave eggs, she managed the weekly mail truck and the delivery of perishables that otherwise we would never see.
There were I am sure, many things she did that I never knew of – but I always remember her hand soothing my head as she applied calomine lotion to my chicken pox spots in the middle of the night – all those small things that told me how much I was loved.
I don't know if she knew she would be only with us for a short while – but it seems she did because she gave herself so fully and completely to loving us kids – like she had to supply us with enough to go on with once she was gone.
And now.. what of the scar?  It was raw and unbelievably tearing of my soul for a very long time.   Scars are like that .. they hurt .. and then they heal.   Sometimes breaking open again until one day they are simply a mark – a remembrance – something we will never lose.
I don't want to lose that scar for in the scar is the sweetness and the depth and the understanding that I was loved. and through that love I myself learned to love.
Thank you my wonderful and beautiful Mother ..
for you gave me life and you gave me love and in that love you gave me the continuation of the understanding of love..
so I too can pass that on..
this is your legacy –
a legacy of the infinity of love.