Dr Varma's Pain and Rehabilitation Acupuncture Clinic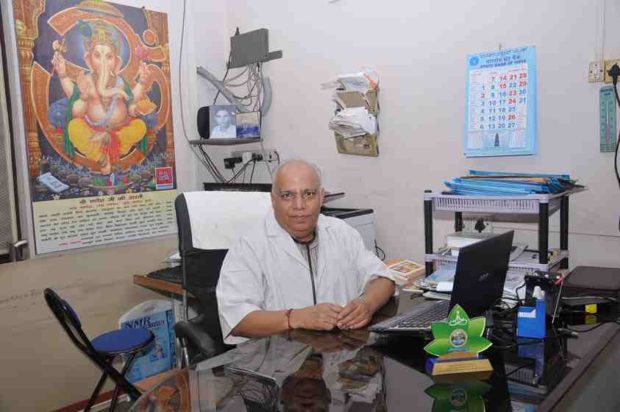 For some time I have had a problem with my left knee…
Having previously had good results with acupuncture for pain – with a  good person in Lonavala near Shikshangram where I volunteered regularly for some years I searched here in Hubli.
And I found Dr Varma – today was my first appointment.
The morning started in a rush me worried that I wouldn't be on time but with the help of Umesh –  the mainstay of the SRDS office where I am helping out, I made it in time at 10.40.
Yes well, shouldn't have fussed or rushed as the wait stretched into an hour. Time to watch the old fashioned video on the wall about the benefits of acupuncture – and the before and after miracles effected in this very clinic.
I occupied my time reading the various certificates on the wall – including two from Medicina Alternativa – an organisation highly respected in the field of acupuncture.
Dr Varma arrived – a small stout gentleman of indeterminate but age. The wait continues with a passing parade of folks in varying degrees of pain and a couple of severely disabled children.
And finally it was my turn for an extremely thorough interview with the nurse who carefully wrote everything on an old fashioned PC.
I was already impressed.
Then a little more wait, and now I was invited up stairs to the treatment rooms.. not to have treatment but to meet the venerable Dr Varma and to have a view of those having acupuncture. Presumably so that I was not afraid of the process. He happily declared that he knew Dr Alok Palresha – my doctor from Lonavala .. and inserted one needle in my arm .. as a test to show me what would happen.
"No": he said – unlike Dr Paresha – "he did not use electrical stimulation" – his belief is that less is more and he liked to do minimal intervention. That suits me just fine as this too strikes a chord in me.
Back downstairs – a little more wait – some more for the 'before and after miracle results viewing' and now it is my turn with the Physical Doctor – Dr Anand Varma.. the one who will examine me and check my strength, bp, bendability and so on.
When he had finished, he declared:
"You have osteo-arthritis in your knee. It is age related" – no surprises there..  "We would like you to have an xray to confirm this and to see what damage is there – and then" – and here came the surprise!
"come for 15 days consecutively – you will have acupuncture each day – and possibly you will need some followup again at a later date – because we don't only want to have you feel better but we have a total clearing of the problem" – in other words he was expecting a complete remission!!
Me.. I am happy with some pain relief.. but these folks are telling me that I will be all better.
I am even more impressed.
And if belief and faith have anything to do with it .. they have restored my faith in the possibility of mending even some of those bits that are falling apart from simply being used too much.
Watch this space.. I shall report back in a few weeks as to the results. And frankly if I am even 50% better – though my expectation is higher than that.. I shall be ecstatic.
And at a price of about $5 a session –  and according to the before and after – facial paralysis, infant spina bifida, back and leg pain, parkinsons symptoms – frozen shoulder (x 2 complete cures seen) I may well have discovered something very special.
"Hey let the medical tourism to Hubli commence.. Arthritis anyone?"
I'll be more than happy to help organise your journey, your accomodation – delicious food and your daily visits to the miracle acupuncture man of Hubli.